Gray Pine Winery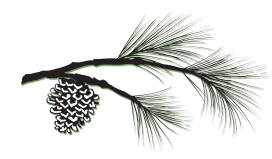 Named for the native California Gray Pine which is prevalent in our area, Gray Pine Winery is a small, limited-production winery located in Penn Valley, California, in the Sierra Foothills, with an annual production of approximately 320 cases. We grow our own grapes on our two-acre vineyard and make our own wines. Specializing in Bordeaux varietals, we produce Cabernet Sauvignon, Merlot, Cabernet Franc, Petit Verdot, Malbec and a classic Bordeaux-style Red Blend. We also have a very small amount of Sauvignon Blanc. We believe that fine wine is best enjoyed with fine meals and our winemaking focus is on food-friendly wines with balanced acid and tannins, in the classic Bordeaux style. Our first vintage was 2011. We are currently featuring our 2013 reds and our newly-released 2016 Sauvignon Blanc.
We're very pleased to announce that all four of the wines we entered in the 2015 California State Fair commercial wine competition earned medals. The 2011 Red Blend and Cabernet Sauvignon received bronze medals, as did the 2012 Red Blend. The 2012 Cabernet Sauvignon received a silver medal!
We had similar success at the 2016 California State Fair. We entered four wines again in 2016 and all four medaled again. Our 2013 Cabernet Sauvignon received a bronze medal. The 2013 Petit Verdot and 2013 Barrel Select Cabernet Sauvignon received silver medals, and our 2013 Bordeaux Style Red Blend received 95 points and a gold medal!
The winery tasting room is open most weekends from 12:30 pm to ~4:30 pm (last tasting at 4:00 pm). Always check this web page before coming for exact days and hours. Winery and cave tours and tastings are also available by appointment. Please call 530-432-7045. The following table shows our anticipated hours for the next several weeks:
| | |
| --- | --- |
| Saturday, Apr 1 & Sunday, Apr 2 | Open 12:30 pm - ~4:30 pm* |
| Saturday, Apr 8 & Sunday, Apr 9 | Open 12:30 pm - ~4:30 pm* |
| Saturday, Apr 15 & Sunday, Apr 16 | Open 12:30 pm - ~4:30 pm* |
| Saturday, Apr 22 & Sunday, Apr 23 | Open 12:30 pm - ~4:30 pm* |
| Saturday, Apr 29 & Sunday, Apr 30 | Open 12:30 pm - ~4:30 pm* |
* Last tasting at 4:00 PM.
We hope to see you soon!
To view an article and tasting notes from the Grass Valley Union newspaper, click here.
For driving directions to our winery, click here.
To find where our wines are available, click here.
Also, now find us on Facebook!